Motorcycle Pictures
Saddleman seat.

The addition off a lot more pcs including

J&M CB, Cruise Control, LED Lighting, Tank bra with pouch,

Also added some new grips, highway boards, mini boards for driver,

led reflectors and then the addition of the fairing along with all new paint.

This project took almost 2 yrs from the inception of it.

The tank was modified by a good friend Joe and the Paint was

by Scott @ LewisFiveMotorsports. Also Special thanks to FREDS

who was in Livonia for help in the parts selection.

After mocking up the fairing and installing the HID headlight setup,

we modified the tank too. Total capacity is larger now

with over 5 gallons she can keep up with big bikes without having to stop.

Then it was time for the reassembly and finish fittings.

And it is ALIVE.... Let the ridings begin.
This bike was a labor of love and my first custom built motorcycle
Favorite Sites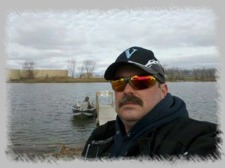 This bike was picked out by Roy, rest his soul, and bought originally for the now ex-wife which never deserved it anyways in my opinion based on how she truly felt according to her words.
She decided in the beginning of the divorce that this bike was not the right color, size and over all bike of her liking anymore after 2 years of enjoying it. She wanted at her age and, in her own words " I am selling it to move onto bigger and better things..!!"
And thus it is now Jimbo's bike.
I would not allow this machine to go to the way side after so MANY HOURS and favors by friends were placed into this bike. It was built as a labor of love and I intend on finding someone who will appreciate the bike as it was built.
Special thanks still goes out to Joe for all the fab work he did on the tank. To Scott and Sue for all the hard work put into the beautiful paint and body work.
Also a great thanks to FREDS who use to be located in Livonia.
Without true and special friends as these, life would not be so pleasant. I am truly blessed by great family and great friends in this life.